La Vaughn Belle
The Little Match Girl / The Emperor's New Clothes (2021)
This submission includes two paintings from an ongoing series that re-envisions the tales of Hans Christian Andersen, the famous Danish author known for classic stories such as "The Little Mermaid" and "The Ugly Duckling." These stories form part of the collective imaginary of children and adults worldwide. What is less familar are Andersen's views on slavery and colonialism as he lived during the height of Denmark's colonial engagements in the Caribbean. His 1840 play "The Mulatto" expresses his anti-slavery viewpoints, even while his stories are curiously devoid of such mentions. Although Denmark is lesser recognized among the European empires for their role in slavery, the afterlives are still apparent in the former Danish West Indies, currently known as the US Virgin Islands. The past is present in the colonial towns named after Danish royalty and the sugar plantation ruins dotting the landscape like raised scars. Most significantly, the impact is felt in the liminal political status that the sale and transfer of the islands and its people to the United States created in 1917. Having grown up in the Virgin Islands, Belle's work often centers around issues of coloniality and how possession of one's imaginary can be a powerful tool to counter the imposed one of the colonial past and present.
This project builds upon an earlier work by Belle, Hideaway (2008), a handmade book of cut outs, employing a technique Andersen himself used while sharing his stories. Belle returns to Andersen because of his deftness and popularity as a creator of fairy tales and the ways nostalgia and fantasy inform coloniality. In this series she intervenes in his classic folktales with narratives from the colonial archives. Belle reimagines The Little Match Girl by merging the visions of the freezing and dying protagonist as she lights a match with an image from an embroidered textile housed in the Danish National Museum. Made by a Danish girl living in the Danish West Indies in 1792, the embroidery depicts the fear and "revenge fantasies" that spread throughout the Caribbean upon the start of the Haitian revolution the year prior. The work highlights how the reverberations of violence are felt in the landscape, the body and the imagination. Similarly, in The Emperor's New Clothes Belle re-envisions the gender, character and clothing of the emperor. Thinking about the laws during slavery that prohibited Black women in the Danish West Indies from wearing fine fabrics like lace or chitnz, Belle presents an unclothed body constructed of the fragmented landscape and the histories embedded within. Belle signals the Black female body as a site of contested narratives and desires, and a new character that is ownership of this empire.
---
Esta obra incluye dos pinturas de una serie en curso que vuelve a imaginar los cuentos de Hans Christian Andersen, el famoso autor danés conocido por historias clásicas como "La sirenita" y "El patito feo". Estas historias forman parte del imaginario colectivo de niños y adultos de todo el mundo. Lo que es menos familiar son las opiniones de Andersen sobre la esclavitud y el colonialismo, aunque vivió durante el apogeo de los compromisos coloniales de Dinamarca en el Caribe. Su obra de 1840 "El Mulato" expresa sus puntos de vista contra la esclavitud, incluso cuando sus historias están curiosamente desprovistas de tales menciones. Aunque Dinamarca es menos reconocida entre los imperios europeos por su papel en la esclavitud, el más allá de la esclavitud aún es evidente en las antiguas Indias Occidentales Danesas, actualmente conocidas como las Islas Vírgenes de los Estados Unidos. El pasado está presente en las ciudades coloniales que llevan el nombre de la realeza danesa y las ruinas de las plantaciones de azúcar que salpican el paisaje como cicatrices elevadas. Más significativamente, el impacto se siente en el estatus político liminal que la venta y transferencia de las islas y su gente a los Estados Unidos creó en 1917. Habiendo crecido en las Islas Vírgenes, el trabajo de Belle a menudo se centra en cuestiones de colonialidad y cómo la posesión del imaginario propio puede ser una poderosa herramienta para contrarrestar lo impuesto por el pasado y el presente colonial.
Este proyecto se basa en un trabajo anterior de Belle, Hideaway (2008), un libro de recortes hecho a mano, que emplea una técnica que el mismo Andersen utilizó al compartir sus historias. Belle regresa a Andersen debido a su destreza y popularidad como creador de cuentos de hadas y las formas en que la nostalgia y la fantasía informan la colonialidad. En esta serie interviene en sus cuentos populares clásicos con narrativas de los archivos coloniales. Belle reinventa La pequeña cerillera fusionando las visiones del protagonista congelado y moribundo mientras enciende un fósforo con una imagen de un tejido bordado que se encuentra en el Museo Nacional de Dinamarca. Realizado por una niña danesa que vivía en las Indias Occidentales danesas en 1792, el bordado representa el miedo y las "fantasías de venganza" que se extendieron por todo el Caribe tras el inicio de la revolución haitiana el año anterior. La obra destaca cómo las reverberaciones de la violencia se sienten en el paisaje, el cuerpo y la imaginación. Del mismo modo, en El traje nuevo del emperador, Belle vuelve a imaginar el género, el carácter y la vestimenta del emperador. Pensando en las leyes durante la esclavitud que prohibían a las mujeres negras en las Indias Occidentales danesas usar telas finas como encaje o chitnz, Belle presenta un cuerpo desnudo construido a partir del paisaje fragmentado y las historias incrustadas en su interior. Belle señala el cuerpo de la mujer negra como un lugar de narrativas y deseos controvertidos, y un nuevo personaje que es dueño de este imperio.
(Español)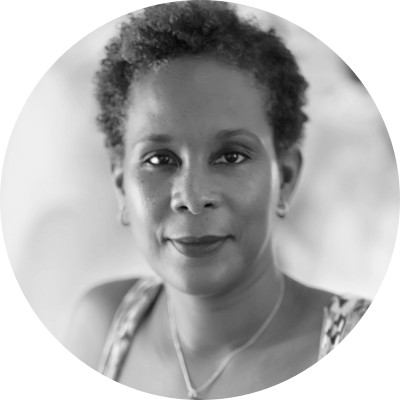 ARTIST:
La Vaughn Belle
Christiansted, US Virgin Islands
La Vaughn Belle makes visible the unremembered. She works in a variety of disciplines that include: video, performance, painting, installation and public intervention projects. She explores the material culture of coloniality and her art presents countervisualities and narratives. Borrowing from elements of architecture, history and archeology Belle creates narratives that challenge colonial hierarchies and invisibility.
She has exhibited in the Caribbean, the USA and Europe in institutions such as the Museo del Barrio (NY), Casa de las Americas (Cuba), the Museum of the African Diaspora (CA) and Christiansborg Palace (DK). Her work has been featured in a wide range of media including: The New York Times, Politiken, VICE, The Guardian, Time, Caribbean Beat, the BBC and Le Monde. She is the co-creator of "I Am Queen Mary", the artist-led groundbreaking monument that confronted the Danish colonial amnesia while commemorating the legacies of resistance of the African people who were brought to the former Danish West Indies. She holds an MFA from the Instituto Superior de Arte in Havana, Cuba, an MA and a BA from Columbia University in NY. She was the 2018-2020 fellow at the Social Justice Institute at the Barnard Research Center for Women.
---
La Vaughn Belle hace visible lo olvidado. Trabaja en una variedad de disciplinas que incluyen: video, performance, pintura, instalación y proyectos de intervención pública. Explora la cultura material de la colonialidad y su arte presenta contravisualidades y narrativas. Tomando prestado elementos de la arquitectura, la historia y la arqueología, Belle crea narrativas que desafían las jerarquías coloniales y la invisibilidad.
Ha expuesto en el Caribe, Estados Unidos y Europa en instituciones como el Museo del Barrio (NY), Casa de las Américas (Cuba), el Museo de la Diáspora Africana (CA) y el Palacio de Christiansborg (DK). Su trabajo ha aparecido en una amplia gama de medios, como: The New York Times, Politiken, VICE, The Guardian, la revista Time, Caribbean Beat, BBC y Le Monde. Ella es la co-creadora de "I Am Queen Mary", el monumento pionero dirigido por artistas que confronta la amnesia colonial danesa mientras conmemora los legados de resistencia de los africanos que fueron llevados a las antiguas Indias Occidentales danesas. Tiene un MFA del Instituto Superior de Arte en La Habana, Cuba, un MA y un BA de la Universidad de Columbia en NY. Fue becaria 2018-2020 en el Instituto de Justicia Social en el Centro de Investigación Barnard para Mujeres.
(Español)
Soy la reencarnacion de un alma esclavizada ...
Awilda Sterling  |  San Juan, Puerto Rico
Tercera raíz (Third Root)
Carlos Martiel  |  Havana, Cuba
Oficios de piel curtida
Fabio Melecio Palacios  |  Palmira, Valle del Cauca, Colombia
Continuum I, Continuum II
Joiri Minaya  |  Santo Domingo, Dominican Republic / New York, US
The Little Match Girl / The Emperor's New Clothes
La Vaughn Belle  |  Christiansted, US Virgin Islands
Preparasyon ke mankai fiwa ba la guerra
Las Nietas de Nonó  |  Carolina, Puerto Rico
In search of lost suns
Leasho Johnson  |  Kingston, Jamaica
But the real ones, just like you, just like me
Luis Vasquez La Roche | Venezuela / Trinidad
Cuerpo pátina – Cuerpo athanor: Legado de la esclavitud en cuerpos racializados
PERMANENCIAS  |  Cartagena, Colombia